Regular price
$919.99 USD
Regular price
Sale price
$919.99 USD
Unit price
per
Sale
Sold out
Our kinesthetic curriculum is multi-sensory and manipulative-based because we know that children learn while doing!
Our 6th Grade Kinesthetic Full Curriculum Deluxe Bundle Includes:
Grade 6 Social Studies
180 Days of Geography – 6th Grade
180 Days of Geography for Sixth Grade provides teachers and parents with 180 days of daily practice to build students' geographical knowledge and skills. Through these weekly units, grade 6 students will improve their geographic background knowledge, critical thinking and reasoning skills, map and spatial skills, and answer photo- and text-dependent questions. This essential social studies resource provides teachers with the tools they need to provide detailed instruction on map skills, key geographical concepts, and the five themes of geography: location, place, human environment/interaction, movement, and region. With the world becoming more connected, learning about different places through a geographic lens will equip 21st century students with the skills they need to better understand diverse cultures and regions in an increasingly interdependent world. An introductory two-week unit focuses on teaching the map skills that students will use throughout the rest of the book. Subsequent units will introduce students to a new place or a type of map, and will explore the relationship between geography and culture. This book helps teachers meet National Geography Standards and state standards in their classrooms. Digital files are included.
Exploration Revolution and Constitution
Bring history to life for students in grades 6-12 using Exploration, Revolution, and Constitution! This 128-page book is perfect for independent study or use as a tutorial aid. It explores history, geography, and social studies with activities that involve critical thinking, writing, and technology. The book includes topics such as the land of the Vikings, Christopher Columbus, colonial life, the Boston Tea Party, and patriots. It also includes vocabulary words, time lines, maps, and reading lists. Aligned to Common Core State Standards, NCSS standards and national and Canadian provincial standards.
Valley of the Vikings Educational Board Game
In the Valley of the Vikings, the annual barrel bowling contest is taking place. Now courage, skill and risk-taking are required so that the players use the ball to knock down the right barrels, and cleverly position their Vikings on the dock. But the player who ventures too far and is first to fall in the water goes away empty-handed. The player who captures the most gold coins wins!
3+ Players Ages 6-99
6th Grade Science and STEM:
180 Days of Science for Grade 6
180 Days of Science for Sixth Grade provides teachers and parents with 180 days of daily practice to build students' science content-area knowledge. The quick, diagnostic-based activities allow busy teachers to cover science content daily. Through these weekly units, grade 6 students will analyze and evaluate scientific data and scenarios, answer constructed response questions, improve their understanding of science and engineering practices, and increase their critical thinking and reasoning skills. Each week will assess students' knowledge of grade-level science content, and focuses on a grade-level topic within one of three science strands: physical science, life science, and Earth and space science. By integrating scientific practices, language arts and math concepts, disciplinary core ideas, and crosscutting concepts, this resource helps teachers meet Next Generation Science Standards (NGSS) and state standards in their classrooms. With these daily activities, students will learn to think like scientists in no time! Digital files are included.
Strain - Competitive Bioengineering Board Game
ScienceSaurus® Student Handbooks are a multipurpose and adaptable resource for a variety of classroom uses including supporting core basal or science kit programs, as well as extending literacy time. A student-friendly comprehensive resource packed with useful information to use whenever students have questions about science. With dynamic visuals and clear explanations, ScienceSaurus offers a great way to engage students while helping to build their literacy and vocabulary.
Classroom Attractions Level 3 Magnet Kit
This exciting magnet kit provides you with the materials you need to implement or supplement a study of magnets in your classroom. The easy-to-use educational guide is filled with suggestions for hands-on activities that will help you introduce your students to the wonderful world of magnets. As students experiment with the materials and see how magnets work, they will discover what objects magnets attract, learn key terms, and see the influence of magnetic fields.
Materials Included in Kit 3:
• 5 Alnico bar magnets
• 5 Alnico horseshoe magnets
• 15 latch magnets
• 10 disc magnets
• 10 ceramic block magnets
• 5 flexible magnet discs
• 5 lodestones
• 5 compasses
• 5 corks
• 5 sets of iron filings
• 5 pieces magnetic viewing film
• 5 nails
• 5 wooden dowels
• Demo Alnico bar magnet
• Teacher guide with activities
Grade 6 Mathematics
Mathological Liar Grade 6
Students will love becoming math detectives! Players earn points for solving math mysteries in this entertaining and educational game. In each round, players read about a crime committed and each player receives a suspect's alibi. Players must determine whether the math in their suspect's alibi is correct or not. If the math is correct, the suspect is innocent, if the math is incorrect, the suspect is guilty of the crime. Each game requires players to use multiple grade-level math skills. Includes 40 math mysteries. The game can be played with 2-4 players and includes ideas for turning the game into a quick-and-easy math center. Set of 200 cards and directions. Aligned with Common Core and State Standards. Supports requirements of Title I and other federally funded programs.
Learning Together Math Grade 6 Set
This sixth grade math set focuses on essential grade-level math skills and provides daily practice to supplement classroom instruction. The high-interest activities will keep students engaged and on track to ensure a successful school year.
Hands-On Algebra Classroom Kit
Kit includes 30 sets of foam Algebra Tiles, an excellent algebra manipulative for your hands-on learners, and the comprehensive resource Working with Algebra Tiles, 2nd Edition. For grades 6-12. About Working with Algebra Tiles: This popular title is a complete resource for helping students to visualize the algebraic process. Students model math problems with algebra tiles to build and solve equations while gaining comfort and skill with algebraic expressions. Teacher's notes and reproducible activities cover integer operations, linear and quadratic expressions, perimeter, arrays, binomials and more. Each topic progresses through: objective, prerequisites, getting started and closing the activity.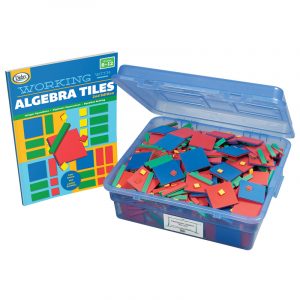 Grade 6 ELA
180 Days of Language Arts Grade 6
Provide sixth-grade students with the right tools to grow their grammar skills. This easy-to-use classroom resource is correlated to state and national standards and provides teachers and parents with daily practice in the following:
punctuation
capitalization
parts of speech
spelling
and more!
Featuring 180 quick, diagnostic-based activities, data-driven assessment tips, and digital resources including pdfs of the activity sheets, and assessments, sixth graders will be gaining and improving grammar skills in no time!
Reading Comprehension Grade 6
Mark Twain's Reading Comprehension Workbook helps sixth graders reinforce their reading comprehension skills by reading versatile passages from a variety of topics and subjects. The 6th grade workbook contains reading passages, before- and after-reading activities, differentiated guides, an answer key, and other instructional resources to develop essential reading comprehension skills. 6th graders read different passages covering poetry, nonfiction, memoirs, articles, and more, answering before- and after-reading questions. Assessments focus on text recall, vocabulary, and more to enhance language arts skills. Parents love using the reading book for added practice from home, and teachers love to incorporate it into hands-on reading lessons during class. The answer key in the back of the reading workbook helps to track student progress. Designed by leading educators, Mark Twain Media Publishing Company specializes in providing captivating, supplemental books and resources in a wide range of subjects for middle- and upper-grade classroom success.
Executive Functioning and Life Skills
The MindUp Curriculum GR 6-8
Brain-Focused Strategies for Learning and Living - By The Hawn Foundation + Research-based and tested in dozens of classrooms
This research-based curriculum features 15 lessons that use the latest information about the brain to dramatically improve behavior and learning for all students. Each lesson offers easy strategies for helping students focus their attention, improve their self-regulation skills, build resilience to stress, and develop a positive mind-set in both school and life. The lessons fit easily into any schedule and require minimal preparation. Classroom management tips and content-area activities help you extend the benefits of MindUP throughout your day, week, and year. Includes a BIG, colorful teaching poster with fascinating facts about the brain!
160 pages + poster 8 3/8 x 10 7/8
Grades 6-8
Physical Education
Capture The Flag
Capture the Flag is over 100 years old, and is often played with nothing but a couple of old rags as flags and sticks on the ground to mark jails and territory borders. Well, welcome to the 21st-century version! This set takes it to the next level with colors, lights, and a completely hi-tech feel! Real to life components: 'Feel' the game with the real-to-life flags, jail markers, territory barriers and team bracelets. Playing Capture the Flag has never been this exciting!
Great nighttime activity:
Light-up the field with the light-up gear. Powered with AAA batteries (all included and preinstalled!) lasting for about 12-16 games.
Complete set: Includes: Light-up Flags (red and blue), 3 Light-up Territory Markers, Light-up Jail Enclosures (red and blue), 10 Light-up Team Bracelets (5 red and 5 blue), assembly and playing guide.
Ladder Ball Game Set
The Champion Sports Ladder Golf Set only takes minutes to set up and provides hours of fun at the beach, park, or your own backyard. This set includes two plastic ladders with a deep base for stability, and six bolas (two weighted sponge golf balls connected by a string). Earn points by throwing the bolas at the different color rung targets!
Art
Fujifilm Square SQ1 Instant Film Camera: Inspire Creativity and motivate students to explore outside in nature and gain confidence trying something new and artsy! Includes digital lesson plans and resources.
Share
View full details