Regular price
$99.99 USD
Sale price
$99.99 USD
Unit price
per
Sale
Sold out
Circuit Scribe Super Student Starter Kit + Online Courses
This electronics kit for students allows you to explore conductivity & touch-sensitive circuits, and to build your understanding of inputs, outputs, and signal processing in your circuits. Additional topics to explore in the guided workbook include light sensing, drawing circuits, timed circuits, piezoelectric materials, and more.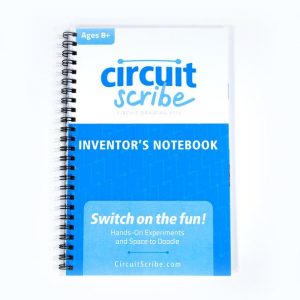 Plus, with the included Connector Cables you can connect your paper circuits to an Arduino, Raspberry Pi, or Makey Makey (not included) and start coding. With the Super Kit, you can make complex, hand-drawn circuits while still using our accessible Circuit Scribe technology.
The Super Kit + Extra Modules contains a full-size pen and modules that introduce more advanced concepts, including light & sound to take your circuit sketches to the next level!
Additional Video Lessons and Step-by-Step Projects for virtual learning and in the classroom. Inspiring curiosity in future engineers and inventors. 
Also includes:
1 Month Subscription to Circuit Scribe Classroom: Join our amazing instructors live and help your kids learn how to dive into the world of circuit making. Following along with our Inventor's Notebook, your kids will learn the basics of electricity and circuit making while getting hands-on instruction from our world class educators.
Steel Sheet: The steel canvas is a metal sheet that serves as a magnetic surface for your Circuit Scribe module kit. Slip the steel sheet behind the page you're working on, like a bookmark, and your modules will magnetically snap down with a nice firm electrical connection to your conductive ink!
Augmented Reality App: The CS Circuits AR App teaches you how to draw circuits with animations of the flowing current! Available on iOS and Android. Includes the following features: It's interactive! Turn knobs, throw switches, and see what happens. Visualize current flow and strength as the circuit animates in real time.
Share
View full details